We have dramatically increased the hosting storage available for our Bronze starter plan. Previously it was 10 GB, now it's a healthy 25 GB!
Why are we giving you more SSD storage? Well, because you've asked for it!
In our last survey, Bronze plan members requested more storage, so we looked at every possible way we could manage this increase, and we were able to come up with a 50% net storage increase in real terms.
SSD Hosting Storage Plans Explained
Previously, the Bronze plan gave members 10GB of storage. But, since we offer true compartmentalized managed WordPress hosting for every site (yes, even on our starter plan!), we also had to allocate space for the system resources required to run each account.
This meant that not all 10 GB SSD storage allocated to each account was available.
So, we've not only increased the SSD storage we allocate to our Bronze hosting plan, but we have also upgraded our storage reporting feature in the hosting section of the Hub.
This lets you see exactly how much space your sites are taking up on your hosting account, and how much of your hosting server is being allocated to running and processing essential system resources.
To view how much storage is being used by your site, simply go to The Hub > Hosting > Analytics section and click on the Storage tab.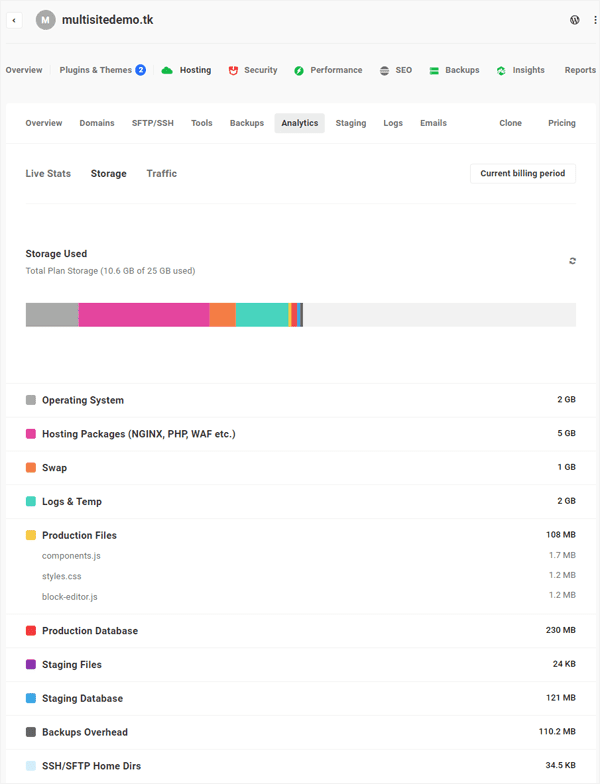 50% More Storage At No Extra Cost, And Without Compromising Your Resources
The bottom line, then, is that as a Bronze hosting member, you now get 50% more SSD storage space than our previous plan without compromising essential resources your server needs to run.
Why is Silver Hosting Also 25GB?
If you look at our pricing plans, you will see that both the Bronze and Silver plan give you the same amount of storage (25 GB).
We've had to do this due to limits imposed by our hosting partner (Digital Ocean), system resources constraints, and to make seamless downgrades possible.
So, while both Bronze and Silver plans offer 25GB storage, if you're on the Silver plan and need additional storage space, we'll help you offload extra media to S3 or similar.
For details of all hosting features and inclusions, check out our hosting plans. If you have any questions about our hosting or need help deciding on the best plan to suit your needs, just reach out to our support team.